Yesterday, Project Veritas exposed a shocking culture of bias and censorship inside Twitter.
Twitter claimed this was an isolated incident by someone having no authority to speak for the company—a rogue.
But, as mentioned yesterday, Project Veritas has interviewed numerous current and former Twitter employees. What our team uncovered was, quite literally, shocking.
Watch today's Project Veritas VIDEO, proving just how deep Twitter's culture of bias, blatant and undisclosed censorship, and abuse of power goes.
Today's video was so important that is was featured at the top of The Drudge Report site, which has had over 890 million site visitors over the past 30 days alone.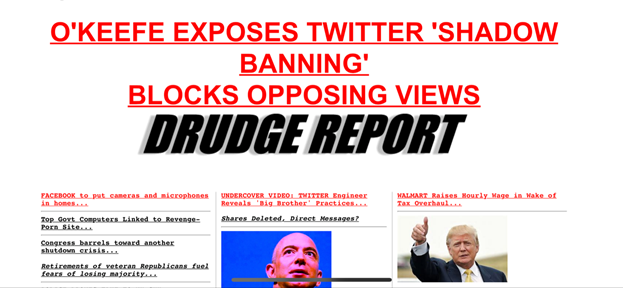 Our investigators caught Twitter employees bragging about biased "content review."
We uncovered how Twitter "shadow bans" selected Twitter users without their knowledge, and has outright banned certain users for their political beliefs.
It was also disclosed to our undercover Veritas journalists that Twitter uses algorithms (mathematical formulas) targeting conservative users. We also heard from Twitter engineers about abuse of their discretionary power, and even employees ready and willing to share confidential information with the U.S. government to in an effort to take down the President.
The deeper our team dug, the more purposeful manipulation of user content we found inside Twitter.
Watch Project Veritas's latest video right away — and see for yourself the culture of bias and censorship that is teeming behind closed doors at Twitter.
In truth,
James
P.S. Project Veritas has exposed Twitter's culture of bias and censorship — and I am counting on your help to make sure the American people know about it.
Will you help Project Veritas spread the word about the results of this investigation — by chipping in just $26, right now?
Please make your most generous contribution to Project Veritas right away:
Source:
http://blogdogcicle.blogspot.com/2018/01/twitters-manipulations-uncovered-by.html
We encourage you to Share our Reports, Analyses, Breaking News and Videos. Simply Click your Favorite Social Media Button and Share.