Stargazers will be able to see four of the five visible planets in the early-morning sky worldwide. Jupiter, Saturn, Mars and Mercury are about to align and they will be visible from Earth in a row along the horizon.
Visible planets are those that can be seen with the naked eye, as opposed to Uranus, Neptune and former planet Pluto, which require telescopes to be viewed.
Amateur astronomers will have to prepare their viewing spots as the astonishing sight will be visible until early February 2018.
Saturn, Mercury Conjunction
The planets Mercury and Saturn will be in conjunction on January 13, 2018, with Mercury passing some 0.7 degrees south of Saturn.
Before daybreak the next few mornings – January 12, 13 and 14 – try catching the close pairing of Mercury and Saturn as the predawn darkness gives way to morning dawn. Look in the sunrise direction. The lit side of the waning crescent moon will be pointing in the direction of Mercury and Saturn, with these two planets sitting quite close to the sunrise point on your horizon.
Don't miss out the beautiful morning sky show.
The night sky is one of the most beautiful natural wonders.
earthsky.org
Read more here: http://earthsky.org/tonight/mercurysaturn-conjunction-coming-soon
Clips, images credit: ESA/HUBBLE, ESO, US NAVAL OBSERVATORY & NASA/JPL
Music credit: YouTube Audio Library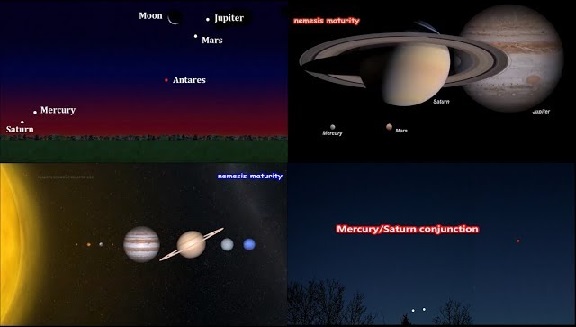 We encourage you to Share our Reports, Analyses, Breaking News and Videos. Simply Click your Favorite Social Media Button and Share.