Story Views

Now:
Last Hour:
Last 24 Hours:
Total:
What! Bombshell: PM Netanyahu to Resign Monday, Will Security for Israel Become a Major Disaster? (Videos)
Sunday, February 11, 2018 11:56
% of readers think this story is Fact. Add your two cents.

2-11-18
More political cloak and dagger! Was this fraud indictment against Israel's PM a major setup?
Syrian air defense turns against Israeli war plane for targeting Iranian assets bringing down the plane. Israel responds with a major offensive striking 12 targets supposedly all Iranian in Syria saying they do not what to raise tensions, all this happening while inside sources are saying that PM Netanyahu is to resign Monday and the LA times saying Netanyahu said he will be indicted soon.
---
Syria Shoots Down Israeli Plane – PM Netanyahu to Resign Monday
Source Israeli News Live
PM #Netanyahu Resignation Could be a Disaster for Israel's Security
Source Israeli News Live
Lot of controversy over whether or not the PM of Israel will in fact resign on Monday. We decided to be a bit more open about the source and why we broke this story, also our stand on the possible resignation of the Prime Minister of Israel and the dangers it could spell for the security of Israel.
#prophecy #israel #war #peaceandsecurity #geopolitical #middleEast
UPDATE:
Middle East Heats Up: Netanyahu Resignation vs War Prep, Which Will it Be? (Video) click here
---
Fraud Indictment Likely for Israeli Prime Minister's Wife, May Implicate Husband
Israeli Prime Minister Benjamin Netanyahu's wife, Sara, is expected to be indicted on charges of fraud, receiving goods under false pretenses and breach of trust for using $111,851 worth of public funds to throw fancy personal dinner parties and hire private chefs.
According to the couple's former housekeeper, Meni Naftali, who filed a lawsuit against Sara, the prime minister's wife threw lavish parties, for which she often ordered more food than was needed, all at the expense of the Prime Minister's Residence.
The Netanyahus in turn are accusing Naftali of stealing food from their home. However, according to a senior police official, "this phenomenon [the high expenses] began before Naftali came to work and the residence and continued after he was fired," Haaretz reported.
The Times of Israel reports that Netanyahu hired an electrician for her husband's right-wing Likud party's committee, which is illegal, according to the Prime Minister's legal office.
Netanyahu is also being investigated for using public funds to buy personal items such as furniture for their family home in Caesarea, a town on Israel's Mediterranean coast.
Sara Netanyahu has denied all the charges against her. During a Likud rally just a month ago, the prime minister sarcastically commented on the allegations, saying, "They're dealing with the most important things in the world. The procedure for replacing a light bulb; trays of food; the cup of tea that was served to her father, a righteous man, on his deathbed."
The criminal charges the prime minister's third wife is expected to face in just a couple of weeks will likely implicate the Israeli prime minister as well, especially since he has also been associated with several other fraud, bribery and corruption cases, Haaretz reported.
There are several cases implicating Benjamin Netanyahu and people in his inner circle.
The prime minister is being charged with illegally accepting gifts including cigars and champagne from wealthy clients. He is also being charged with illicitly making a deal with the publisher of an Israeli Paper, the Yedioth Ahronoth, to receive favorable coverage in exchange for sabotaging the commercial activity of the paper's competitor: Israel Hayom.
But perhaps the most shocking allegations concern Netanyahu's chief of staff, David Sharan, who is being charged with corruption in the purchase of submarines from ThyssenKrupp. Netanyahu's middleman is being charged with fraud, breach of trust, conspiracy and accepting bribes in the purchase of $2 billion worth of submarines and naval patrol craft.
SOURCE Sputnik
---
PLUS
Israel warns Iran after launching major raids in Syria
Israeli PM Benjamin Netanyahu says his country will defend itself "against any attack" after carrying out what appear to be its largest strikes on sites in Syria in decades.
Israel launched raids against Iranian targets after saying it had intercepted an Iranian drone crossing the Syria-Israel border.
Iran denies the allegation.
During the offensive an Israeli F-16 fighter jet was shot down by Syria air defences, crashing in northern Israel.
Its pilots ejected from the plane and were taken to hospital.
It is believed to be the first time Israel has lost a jet in combat since 2006.
Mr Netanyahu warned that Israel's policy to defend itself against "any attempt to harm our sovereignty" was "absolutely clear".
"Iran brazenly violated Israel's sovereignty," he said, adding: "They dispatched an Iranian drone from Syrian territory into Israel… Israel holds Iran and its Syrian hosts responsible."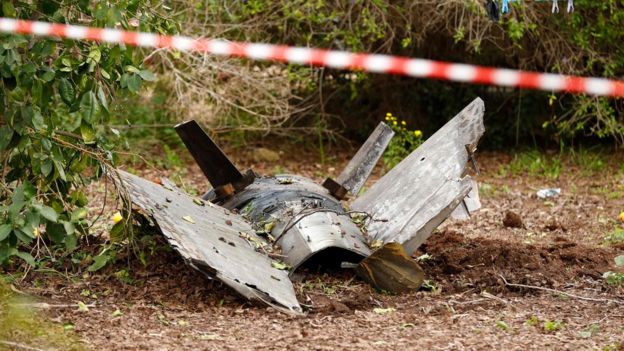 Remains of a missile were found near the site of the F-16 jet crash in northern Israel
Mr Netanyahu said Israel would oppose any attempt by Iran to entrench itself militarily in Syria.
But he also said during a meeting with military chiefs that "Israel seeks peace".
In other reaction:
The US state department said it supported Israel's right to defend itself, blaming Iran for the confrontation
In a phone call with Mr Netanyahu, Russian President Vladimir Putin stressed the need to avoid a "dangerous escalation". He has been supporting President Assad's government in Syria's civil war
UN Secretary-General Antonio Guterres has called for an immediate de-escalation in the actions that he said threaten a "dangerous spill-over" across Syria's borders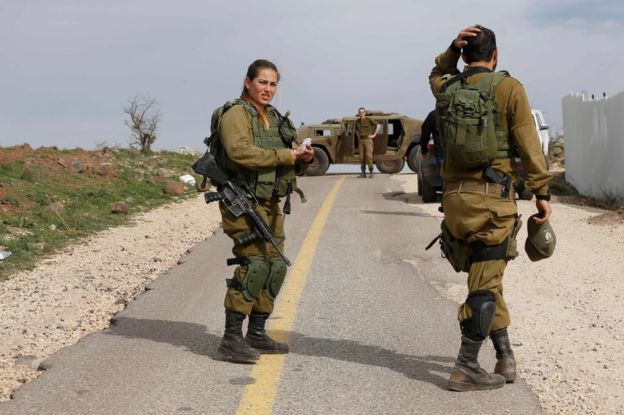 Israeli soldiers are in the alert in the occupied Golan Heights
What caused the escalation?
Israel's military says one of its combat helicopters downed an Iranian drone infiltrating Israel on Saturday. It tweeted footage of the incident.
In response, Israel said it attacked Syrian and Iranian targets in Syria, during which an F-16 jet was fired upon, Israel says, causing it to crash.
The two pilots were able to parachute to safety before it came down in an empty field near the town of Harduf in northern Israel.
Israel says it then carried out a second wave of strikes on both Syrian and Iranian military targets.
The Israeli military said it had inflicted huge damage on targets in Syria in the "most significant attack" of its kind against the country since the 1982 Lebanon war.
Syria's state media say air defences opened fire in response to an Israeli attack on a military base, hitting more than one plane.
What is the Iranian presence in Syria?
Iran is Israel's arch-enemy, and Iranian troops have been fighting rebel groups in Syria since 2011.
Tehran has sent military advisers, volunteer militias and, reportedly, hundreds of fighters from its Quds Force, the overseas arm of the Iranian Revolutionary Guards Corps (IRGC).
It is also believed to have supplied thousands of tonnes of weaponry and munitions to help President Bashar al-Assad's forces and the pro-Iranian Hezbollah, which is fighting on Syria's side.
Tehran has faced accusations that it is seeking to establish not just an arc of influence but a logistical land supply line from Iran through to Hezbollah in Lebanon.
SOURCE BBC News
---
Netanyahu stirring regional war to deflect attention from corruption probe': Israeli lawmaker
An Israeli lawmaker says Prime Minister Benjamin Netanyahu is seeking to instigate a regional war to deflect attention from an ongoing investigation into his suspicious corrupt practices.
Aida Touma-Sliman from the Joint List, which comprises Arab representatives at the Israeli parliament Knesset, made the remarks after Israel seriously escalated its intervention in the Syria war on Saturday.
Netanyahu and his regime "are submerged up to their necks in corruption affairs, on the eve of the publication of the [police] recommendations," said the lawmaker.
"Netanyahu is willing to instigate a regional war in which the peoples of the region will pay a heavy price just for his political survival," she added.
Tensions took a dangerous turn on Saturday after Israeli warplanes attacked several targets inside Syria. The Syrian army shot down at least one of the jets – a US-made F-16 – after months of warning to Israel about such raids.
Tel Aviv, which has repeatedly attacked Syrian army positions in the past, claimed that the aerial attack came in response to an "Iranian" drone intrusion into its airspace but both Tehran and Damascus dismissed the claim.
Syria said its army had flown the drone to hunt down Daesh terrorists when an Israeli helicopter crossed the border and shot it down.
Netanyahu is the subject of two high-profile graft cases. In Case 1000, he is suspected of having received gifts from businessmen overseas. He is also being investigated in Case 2000 for an alleged media bribery scheme to help Yediot Aharonot newspaper against its competitor Yisrael Hayom in return for favorable coverage.
Over the past few months, thousands of Israelis have been rallying outside the house of Israeli attorney general Avichai Mandelblit in the city of Petah Tikva every week to call for Netanyahu's prosecution.
In their latest rally, the protesters accused Mandelblit of receiving monetary gifts from a number of businessmen, which may have affected the investigation process.
Police Commissioner Roni Alsheich, meanwhile, said officers investigating Netanyahu had been followed and put under pressure.
SOURCE PressTV
---
AND
Israel launches 'large-scale' attack in Syria after fighter jet crashes
Military spokesman says four Iranian targets near Damascus were destroyed in retaliation
Israel has launched what it described as a large-scale air raid in Syria after one of its F-16 fighters crashed while under Syrian anti-aircraft fire.
Twelve sites, including four "Iranian targets" near the Syrian capital, Damascus, were destroyed in the raid, according to an Israeli military spokesman, Jonathan Conricus. It was not immediately clear whether there were any casualties.
The Israeli F-16 was shot at as it returned on Saturday morning from a raid to destroy Iranian facilities accused of launching a drone into Israel.
Both pilots managed to eject and landed in Israel. One was badly injured. It was not clear if the jet was hit or if the pilots abandoned the plane.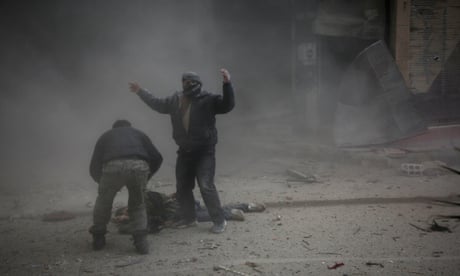 Syrian state news claimed its air defences had struck at least two jets. The Israeli military denied more than one plane had been hit.
Saturday's violence was one of the most severe incidents involving Israel, Iran and Syria during Syria's seven-year-old civil war. It is believed to be the first time Israel has lost a jet in the conflict.
The jet was part of a mission deep into Syrian territory to destroy what Conricus said was an Iranian drone control facility near the desert city of Palmyra. The drone that entered Israeli airspace was shot down and retrieved, he said.
"The Syrians and Iranians, from our point of view, are playing with fire," Conricus said. "The event is still ongoing; it is by no means behind us."
Iran condemned Israel for intercepting one of its drones. "Reports of downing an Iranian drone flying over Israel and also Iran's involvement in attacking an Israeli jet are so ridiculous," state TV quoted Iran's foreign ministry spokesman Bahram Qasemi as saying. He said Iran provided only "military advice" to Syria.
Syrian state media said air defences opened fire on the jets in response to an Israeli act of aggression against a military base on Saturday.
"The Israeli enemy entity at dawn today conducted a new aggression against one of the military bases in the central region. Our air defences confronted it and hit more than one plane," the unidentified military source said.
Conricus said Iran was "responsible for this severe violation of Israeli sovereignty".
"IDF (Israel Defence Forces) has targeted the Iranian control systems in Syria that sent the [unmanned aircraft] into Israeli airspace. Massive Syrian anti-air fire, one F16 crashed in Israel, pilots safe," Conricus tweeted.
Israel's chief military spokesman, Brig Gen Ronen Manelis, said Israel held Iran directly responsible for the incident.
"This is a serious Iranian attack on Israeli territory. Iran is dragging the region into an adventure in which it doesn't know how it will end," he said. "Whoever is responsible for this incident is the one who will pay the price."
Rocket alert sirens sounded in the Israeli-held Golan Heights and in northern Israel during confrontations, while flights to Israel's international airport near Tel Aviv were briefly suspended.
On Tuesday the Israeli prime minister, Benjamin Netanyahu, paid a rare visit to the Israel-Syria front and warned Israel's enemies not to test its resolve. He did not mention by name Iran or its Lebanese militia ally, Hezbollah, both main players in Syria's civil war.
Netanyahu has been cautioning against any attempt by Iran to deepen its military foothold in Syria or construct missile factories in neighbouring Lebanon.
SOURCE The Guardian
---
#geopolitical #israel
DISCLAIMER: Ads seen on this page or site are not endorsed by nor are they placed by Due Diligence
ARE YOU COMPLETELY PREPARED & PROTECTED?
The Bible tells us that every human has sinned and fallen short of the glory of God which is is a heart-penetrating truth. He has provided a way to cleanse us of our sins since we can never be "good enough" to cleanse ourselves. That avenue to God's grace, mercy and forgiveness (the cleansing of our sins) is through His only begotten Son, Jesus Christ of Nazareth Who is equally God.
Not one of us are guaranteed a "tomorrow". Has your time run out? Will you continue to ignore the promptings of God the Holy Spirit or have you awakened to the essential need for God, risking eternal damnation?
​​God the Holy Father, God the Holy Son and God the Holy Spirit are One God, the true, living, uncreated God Who is ever-present, all knowing, all powerful and all loving. He desires that every single person be forgiven, saved and to live eternally with Him. He is our only real protection and His love for you is unchanging. Accept Jesus Christ as your Savior, the true Messiah, today.
You can't take your salvation for a test drive. You're all-in or not.
Admit to Him that you are a sinner in need of forgiveness, that you are truly sorry for your sins. Acknowledge that He died for your sins, rose from the dead and lives forevermore. Invite Him into your life and to help you to turn from sin. Rejoice! You just became a Christian! Now trust in Him and get to know Him through the Bible which tells us everything we need to know and through prayer/talking to Him. He eagerly desires relationship with you.
=================================================================================
DISCLAIMER: Ads seen on this page or on this site
are NOT endorsed by NOR are they placed by Due Diligence
THIS ARTICLE ENDS HERE
=================================================================================